Comptron provides a fully integrated system designed by people who have been dealers themselves and have been involved in the business for over 25 years.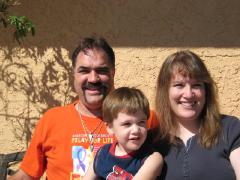 Cheryl A. Yarbrough
Accounting Support Tech/Office Assistant
I am the oldest child of 4, am married to Levon Yarbrough (also an employee here and youngest brother of Gayland). I have been employed here at Comptron since April 1996. We have a daughter, a son and a grandson.

Besides the fact that I am lucky enough to be able to work with my husband everyday, I really enjoy being here. The atmosphere is great and everyone here works very hard together as a team. My job is primarily to train and assist our customers who use the accounting integration. I love my job and enjoy talking with you, our customer or friend.
Favorite Foods: Pot Roast with potatoes, carrots, onion, celery, with gravy, bread & butter!
Favorite Pro/College Teams: Arizona Diamondbacks!
Ford, Chevy, or Mopar: Ford, because my husband says so.
Favorite Animal: I love all animals, esp. Horses, Parrots, & Siamese Cats
Favorite Activity: Spending time with my family. The more the merrier.
Favorite Car of All Time: Ford Mustang, my husband had nothing to do with this one.
Country You'd Most Like to Visit: U.S.A.
What If You Had a Week to Yourself: I would like to go for a drive wherever the road leads me, see new places & visit old friends.